Knit version
Washcloths may not be quite as versatile as towels, but they're pretty useful. They can't protect you against Vogon poetry, though. Sorry about that.
Materials
Worsted weight cotton (sample was made with Lily Sugar 'n Cream), about 60 yds
Hook that gives you a fabric you like. The sample was made with a US H-8/5mm hook, at 4st/in, and is 8.5" by 8".
Yarn needle for weaving in ends
Optional: Heart of Gold soap from Eclectic Lady
Please note:
The design alternates rows of USsc(UKdc) and UShdc(UKhtr). The chain spaces are formed on the wrong side rows, which is why the design looks backwards in the chart. If you've ever done filet crochet, this should be fairly easy. (And if you have, I would recommend working from the second chart, since that's more filet crochet-ish.)
In crochet, stitches are offset a bit. When working rows of the same type of stitch, the offsets balance out, and the overall piece is straight. When working rounds (and joining and chaining up), the seam line will move diagonally along the piece. In addition, different stitches offset differently. Because one side of this piece is consistently USsc/UKdc and the other is UShdc/UKhtr, the cloth as a whole biases. Most of the bias will block out, but if this bothers you, use all UShdc/UShtr.
I found that the eyelets were crisper if I didn't work into the stitch right before the eyelet on the return row. Instead, I worked two stitches into the chain space.
I put a round of USsc/UKdc around the entire thing: one stitch into each on the top and bottom, three stitches into each corner, and (mainly) one stitch into the side of each row, with two stitches into every third UShdc/UKhtr row. (If you do the all-hdc variation, alternate one sc, two sc: in other words, 3sc into every two rows.)
Instructions
In pictures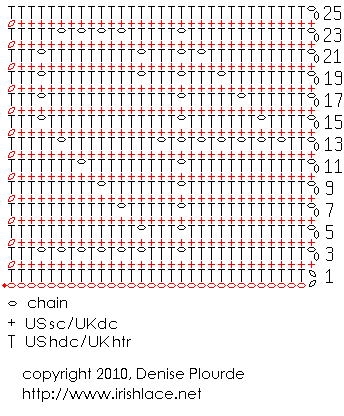 The above is an after-the-fact chart. My working chart looked more like this: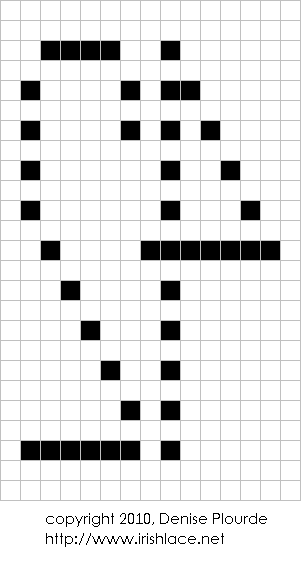 In words
Abbreviations:
ch - chain
sc - single crochet (US usage)/double crochet (UK usage)
hdc - half double crochet (US usage)/half treble crochet (UK usage)
st/sts - stitch/stitches; whatever you're working into: can be either a chain space, a USsc(UKdc), or a UShdc(UKhtr)
sk - skip; don't work into the next stitch

Instructions:
Chain 32
Row 1: hdc into third ch from hook and into each ch after, turn (=31 sts: 30 hdc + turning chain)
Row 2 and all other even rows: ch 1 (counts as first sc), sc into each st across, turn (=31 sts: 30 sc + turning chain)
Row 3: ch 2 (counts as first hdc), hdc into each of next 12 sts, ch 1, sk 1 st, hdc into each of next 3 sts, *ch 1, sk 1 st, hdc into next st, repeat from * 5 more times, hdc into each of next 2 sts, turn
Row 5: ch 2, hdc into each of next 12 sts, ch 1, sk 1 st, hdc into each of next 3 sts, ch 1, sk 1 st, hdc into each of next 13 sts, turn
Row 7: ch 2, hdc into each of next 12 sts, ch 1, sk 1 st, hdc into each of next 5 sts, ch 1, sk 1 st, hdc into each of next 11 sts, turn
Row 9: ch 2, hdc into each of next 12 sts, ch 1, sk 1 st, hdc into each of next 7 sts, ch 1, sk 1 st, hdc into each of next 9 sts, turn
Row 11: ch 2, hdc into each of next 12 sts, ch 1, sk 1 st, hdc into each of next 9 sts, ch 1, sk 1 st, hdc into each of next 7 sts, turn
Row 13: ch 2, hdc into each of next 2 sts, *ch 1, sk 1 st, hdc into next st, repeat from * 6 more times, hdc into each of next 8 sts, ch 1, sk 1 st, hdc into each of next 5 sts, turn
Row 15: ch 2, hdc into each of next 4 sts, ch 1, sk 1 st, hdc into each of next 7 sts, ch 1, sk 1 st, hdc into each of next 13 sts, ch 1, sk 1 st, hdc into each of next 3 sts, turn
Row 17: ch 2, hdc into each of next 6 sts, ch 1, sk 1 st, hdc into each of next 5 sts, ch 1, sk 1 st, hdc into each of next 13 sts, ch 1, sk 1 st, hdc into each of next 3 sts, turn
Row 19: ch 2, hdc into each of next 8 sts, *ch 1, sk 1 st, hdc into each of next 3 sts, repeat from * once, ch 1, sk 1 st, hdc into each of next 9 sts, ch 1, sk 1 st, hdc into each of next 3 sts, turn
Row 21: ch 2, hdc into each of next 10 sts, ch 1, sk 1 st, hdc into next st, ch 1, sk 1 st, hdc into each of next 3 sts, ch 1, sk 1 st, hdc into each of next 9 sts, ch 1, sk 1 st, hdc into each of next 3 sts, turn
Row 23: ch 2, hdc into each of next 12 sts, ch 1, sk 1 st, hdc into next 5 sts, * ch 1, sk 1 st, hdc into next st, repeat from * 3 more times, hdc into each of next 4 sts, turn
Row 25: ch 2, hdc into each of next 30 sts

Put a border of sc around it, break the yarn, weave in ends, block as desired. (It isn't really lacy lace, but yes, it'll look better if it's blocked.)