Unless I'm making a specific design on a blanket, I tend to arrange the squares fairly regularly. (Exhibit 1: the flickr photoset of my blankets.) It helps the blanket look balanced, and if there are any gauge issues with the yarns, it distributes the larger (or smaller) squares across the blanket.
When I plan a blanket, I start with a rough sense of how large I want it to be. I've made a number of blankets for a nursing home, and I've found that 4ft by 6ft is a good size. In practical terms, given my gauge with worsted weight acrylic and a 5mm hook, this means a blanket that is 6 squares by 10 squares, where the squares are 7 rounds each. That's 60 squares. Further, I know that at my gauge, each of those 7 round squares that size takes about an ounce of yarn, so I can estimate quantities pretty closely. For all of these blankets, I typically use 10-12oz (1 3/4lb skein or 2 7-8oz skeins) of the joining yarn.
I then go to the yarn department of a craft store, and take a look at the Red Heart/Caron/Bernat selection. I typically use multicolored yarns to join the squares and to border the finished blanket, so I tend to look for those first. Then I find solid colors that go with it. There are times I find many, there are times I find only two.
If I find 2 colors, then I'll need 30 squares in each, and that will mean 30 ounces of each color, in 2 1lb skeins or 4 8oz skeins, or 4 or 5 7oz skeins. (There have been times I've managed 15 squares out of 2 7oz skeins.)
Some 2 color (30/30 for the checkerboard, 31/29 for the diagonals) layouts:

| | |
| --- | --- |
| Checkerboard | Diagonals |
If I find 3 colors, I'll need 20 squares (20 oz) of each color, in 2 1lb skeins, or 3 7oz or 8oz skeins.
Some 3 color (20/20/20) layouts:


Diagonals

Double
diagonals
If I find 4 colors, I'll need 15 squares of each color, in 1 1lb skein, or 2 8oz skeins, or 2 or 3 7oz skeins.

Some 4 color (15/15/15/15, except for Diagonals, which is actually 14/15/15/16, although it looks balanced) layouts:


Diagonals

Intersecting
diagonals

Swirl
If I find 5 colors (hasn't happened yet, but it may), I'll need 12 squares of each color, in 1 1lb skein, 2 7oz or 8oz skeins.
Some 5 color (12/12/12/12/12) layouts:

| | |
| --- | --- |
| Diagonals | Knight's Moves |
There are other possibilities. There are always other possibilities. Heck, I haven't even mentioned the Trip Around the World pattern, and that's only because it needs an odd number of squares on each side. Which means that it wouldn't really work for 6 by 10. But if you thought of a 6 by 10 blanket as 4 small 3 by 5 blankets, you could do something like this: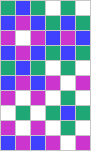 Four triplets
And of course, for any number of colors, randomness is a possibility. Make 60 squares, any number of colors and any number of squares of each of those colors. Put them into a bag and mix them up, then put them together as you pull them out of the bag.