Knit version
A three-circuit labyrinth in eyelets. For those days when you're not sure you'll ever reach your goal.
Materials
Worsted weight cotton (sample was made with Lion Cotton in white), about 60 yds
Hook that gives you a fabric you like. The sample was made with a US H-8/5mm hook, at 4st/in, and is 9" by 9".
Yarn needle for weaving in ends
Optional: Celtic Knot Soap from Eclectic Lady
Please note:
If you've ever done filet crochet, this should be fairly easy. (And if you have, I would recommend working from the second chart, since that's more filet crochet-ish.)
I put a round of USsc/UKdc alternating with ch1 around the entire thing: one USsc into every other stitch on the top and bottom, and two USsc into each turning chain on the sides, with one USsc around each ending USdc.
Instructions
In pictures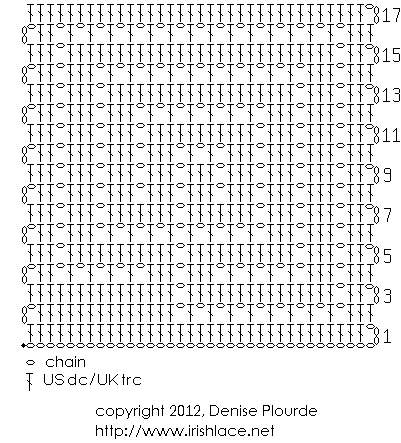 The above is an after-the-fact chart. My working chart looked more like this: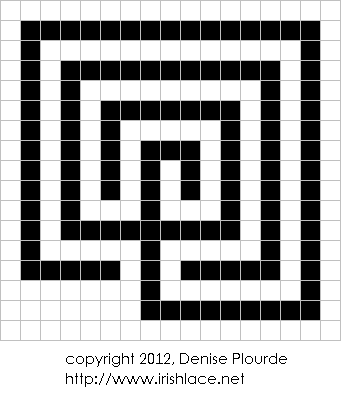 In words
Abbreviations:
ch - chain
sc - single crochet (US usage)/double crochet (UK usage)
dc - double crochet (US usage)/treble crochet (UK usage)
st/sts - stitch/stitches; whatever you're working into: can be either a chain space or a USdc (UKtrc)
sk - skip; don't work into the next stitch

Instructions:
Chain 37
Row 1: dc into fourth ch from hook and into each ch after, turn (=35 sts: 34 dc + turning chain)
Row 2: ch 3 (counts as first dc), dc into each of next 14 sts, (ch 1, sk 1 st, dc into next st) 9 times, dc into each of next 2 sts, turn
Row 3: ch 3, dc into each of next 2 sts, (ch 1, sk 1 st, dc into each of next 15 sts) twice, turn
Row 4: ch 3, dc into each of next 2 sts, [(ch 1, sk 1 st, dc into next st) 4 times, (ch 1, sk 1 st, dc into each of next 3 sts) twice] twice, turn
Row 5: ch 3, dc into each of next 2 sts, ch 1, sk 1 st, dc into each of next 3 sts, (ch 1, sk 1 st, dc into each of next 11 sts) twice, ch 1, sk 1 st, dc into each of next 3 sts, turn
Row 6: ch 3, dc into each of next 2 sts, ch 1, sk 1 st, dc into each of next 3 sts, (ch 1, sk 1 st, dc into next st) 8 times, (ch 1, sk 1 st, dc into each of next 3 sts) 3 times, turn
Row 7: ch 3, dc into each of next 2 sts, (ch 1, sk 1 st, dc into each of next 3 sts) twice, (ch 1, sk 1 st, dc into each of next 7 sts) twice, (ch 1, sk 1 st, dc into each of next 3 sts) twice, turn
Row 8: ch 3, dc into each of next 2 sts, (ch 1, sk 1 st, dc into each of next 3 sts) 8 times, turn
Row 9: ch 3, dc into each of next 2 sts, (ch 1, sk 1 st, dc into each of next 3 sts) 8 times, turn
Row 10: ch 3, dc into each of next 2 sts, (ch 1, sk 1 st, dc into each of next 3 sts) 3 times, (ch 1, sk 1 st, dc into next st) twice, (ch 1, sk 1 st, dc into each of next 3 sts) 4 times, turn
Row 11: ch 3, dc into each of next 2 sts, (ch 1, sk 1 st, dc into each of next 3 sts) twice, ch 1, sk 1 st, dc into each of next 11 sts , (ch 1, sk 1 st, dc into each of next 3 sts) 3 times, turn
Row 12: ch 3, dc into each of next 2 sts, (ch 1, sk 1 st, dc into each of next 3 sts) 2 times, (ch 1, sk 1 st, dc into next st) 6 times, (ch 1, sk 1 st, dc into each of next 3 sts) 3 times, turn
Row 13: ch 3, dc into each of next 2 sts, ch 1, sk 1 st, dc into each of next 3 sts, ch 1, sk 1 st, dc into each of next 19 sts, (ch 1, sk 1 st, dc into each of next 3 sts) twice, turn
Row 14: ch 3, dc into each of next 2 sts, ch 1, sk 1 st, dc into each of next 3 sts, (ch 1, sk 1 st, dc into next st) 10 times, (ch 1, sk 1 st, dc into each of next 3 sts) twice, turn
Row 15: ch 3, dc into each of next 2 sts, ch 1, sk 1 st, dc into each of next 27 sts, ch 1, sk 1 st, dc into each of next 3 sts, turn
Row 16: ch 3, dc into each of next 2 sts, (ch 1, sk 1 st, dc into next st) 15 times, dc into each of next 2 sts, turn
Row 17: ch 3, dc into each of next 34 sts

Put a border of sc (or sc-and-ch1 as described in the notes) around it, break the yarn, weave in ends, block as desired. (It isn't really lacy lace, but yes, it'll look better if it's blocked.)