Big blue box, small blue cloth. Vworp vworp vworp sounds not included.
Materials
Worsted weight cotton (sample was made with Lion Brand Kitchen Cotton in Morning Glory Blue (108)), about 60 yds
Needles that give you a gauge of 5 st/in. This is if you want to make a standard 9" cloth. If not, use needles that give you a fabric you like with the yarn you use. (The sample was made using US4/3.5mm.)
Yarn needle for weaving in ends
Please note:
The graph includes all rows.
The pattern is worked primarily on the wrong side, with the exception of the light at the top. That's reverse stockinette, not garter, so you'll need to purl on those right side rows.
The middle section (rows 16-46) is repetitive. When you have 16 garter ridges in the uprights of the D, the next garter ridge will be the start of the top piece.
Click the graph image to see a larger view.
Instructions
In pictures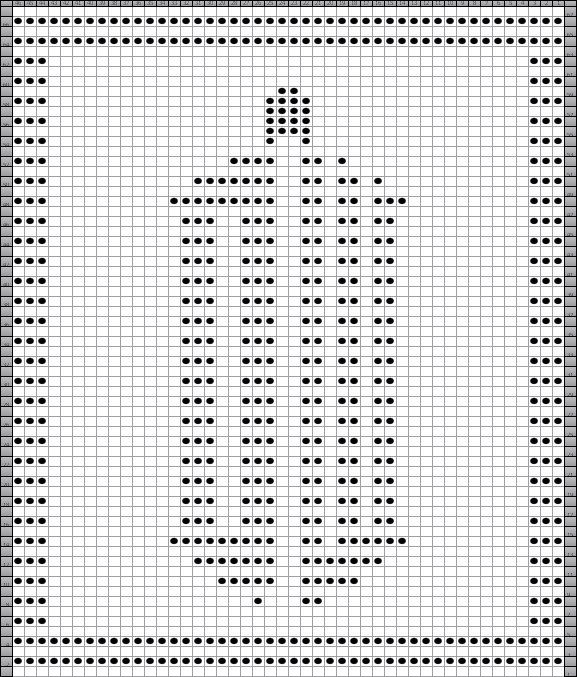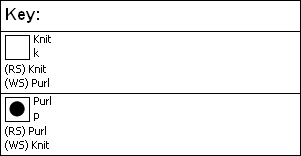 In words
Abbreviations:
k: knit
p: purl

Instructions:
Cast on 46 stitches

Rows 1-5 (RS): k across
Row 6 (WS): k3, p40, k3
Row 7 and all odd rows until Row 55 (RS): k across
Row 8 (WS): k3, p17, k1, p3, k2, p17, k3
Row 10 (WS): k3, p14, k5, p2, k5, p14, k3
Row 12 (WS): k3, p12, k7, p2, k7, p12, k3
Row 14 (WS): k3, p10, k9, p2, k2, p1, k6, p10, k3
Row 16 (WS): k3, p11, k3, p2, k3, p2, k2, p1, k2, p1, k2, p11, k3
Row 18 (WS): k3, p11, k3, p2, k3, p2, k2, p1, k2, p1, k2, p11, k3
Row 20 (WS): k3, p11, k3, p2, k3, p2, k2, p1, k2, p1, k2, p11, k3
Row 22 (WS): k3, p11, k3, p2, k3, p2, k2, p1, k2, p1, k2, p11, k3
Row 24 (WS): k3, p11, k3, p2, k3, p2, k2, p1, k2, p1, k2, p11, k3
Row 26 (WS): k3, p11, k3, p2, k3, p2, k2, p1, k2, p1, k2, p11, k3
Row 28 (WS): k3, p11, k3, p2, k3, p2, k2, p1, k2, p1, k2, p11, k3
Row 30 (WS): k3, p11, k3, p2, k3, p2, k2, p1, k2, p1, k2, p11, k3
Row 32 (WS): k3, p11, k3, p2, k3, p2, k2, p1, k2, p1, k2, p11, k3
Row 34 (WS): k3, p11, k3, p2, k3, p2, k2, p1, k2, p1, k2, p11, k3
Row 36 (WS): k3, p11, k3, p2, k3, p2, k2, p1, k2, p1, k2, p11, k3
Row 38 (WS): k3, p11, k3, p2, k3, p2, k2, p1, k2, p1, k2, p11, k3
Row 40 (WS): k3, p11, k3, p2, k3, p2, k2, p1, k2, p1, k2, p11, k3
Row 42 (WS): k3, p11, k3, p2, k3, p2, k2, p1, k2, p1, k2, p11, k3
Row 44 (WS): k3, p11, k3, p2, k3, p2, k2, p1, k2, p1, k2, p11, k3
Row 46 (WS): k3, p11, k3, p2, k3, p2, k2, p1, k2, p1, k2, p11, k3
Row 48 (WS): k3, p10, k9, p2, k2, p1, k2, p1, k3, p10, k3
Row 50 (WS): k3, p12, k7, p2, k2, p1, k2, p1, k1, p12, k3
Row 52 (WS): k3, p15, k4, p2, k2, p1, k1, p15, k3
Row 54 (WS): k3, p18, k1, p2, k1, p18, k3
Row 55 (RS): k21, p4, k21
Row 56 (WS): k3, p18, k4, p18, k3
Row 57 (RS): k21, p4, k21
Row 58 (WS): k3, p18, k4, p18, k3
Row 59 (RS): k22, p2, k22
Row 60 (WS): k3, p40, k3
Row 61 (RS): k across
Row 62 (WS): k3, p40, k3
Row 63-67 (RS): k across Bind off. Block as desired. (It's mostly stockinette, and it'll look better when it's blocked. Really.)
---