The Hands and Cogwheel Dishcloth was the swatch for this stole. You may want to try that first, especially if you are more comfortable with text than with charts. Swatching the dishcloth with your stole's yarn and needles will also give you a sense of your gauge and how many pattern repeats you'll want. And that could prevent some unpleasant surprises.
Yarn and needle notes: I did my stole with three 50g/180yd balls of Dalegarn Baby Ull (fingering weight merino) on size 2 (2.75mm) needles. I hoped for something more scarf than stole-like, and I got what I wanted. (I originally started with Araucania sock yarn, and while I loved the yarn, the variegation wasn't quite working with the pattern. The solid Baby Ull was a better choice for me.) If I wanted a stole, I would likely still use fingering/sock yarn but would go up a size or two for the needles and add an extra pattern repeat.
Graph notes: The chart shows right side stitches only. It starts off with a few rows of garter-based border stitches, then goes into the pattern, continuing the garter-based border on 4 stitches on each side.
Border notes: The yarn overs and decreases will work if you cast on 77 stitches and work the pattern as written, or if you add an even number of extra pattern repeats. If you add an odd number of pattern repeats, you will need to work a ssk before the last yarn over. I prefer to slip the first stitch of the row purlwise, since I think it gives a neater edge. This is, of course, totally personal preference. Do what looks right to you. Wrong side border rows are knit straight across.
Row of cogwheels notes: the row of cogwheels you see at the ends of the finished object will need to be repositioned if you make the stole wider, since they don't fit the 34-stitch repeat. Omit them if you want, since they were mostly my way of using up "extra" yarn.
Pattern notes: Start with row 1, work to row 157, then repeat rows 55-157 until the stole is long enough.
Alternatively, you could start with row 53, work to row 105, then repeat rows 3-105 until the stole is long enough. (This will give you cogwheels in the corners.)
Either way, wrong side pattern rows should be done as "knit 4, purl to last 4 stitches, knit 4"
The pattern repeat is 34 stitches wide and is between the red lines. You can omit it or add more repeats as you see fit. Just be sure to adjust your cast-on by a multiple of 34.
If you have problems printing the chart legibly, click on it. That will bring you to just the image, and you may be able to print it fully that way.
Now, having said that... The problem with publishing a pattern based on a swatch is that redesigns happen. So there are three charts for this. The short chart that was what I intended to make, the chart that I actually worked from, and the chart that most closely reflects what I made.
The chart I originally planned to use (please click the image for the full-sized chart)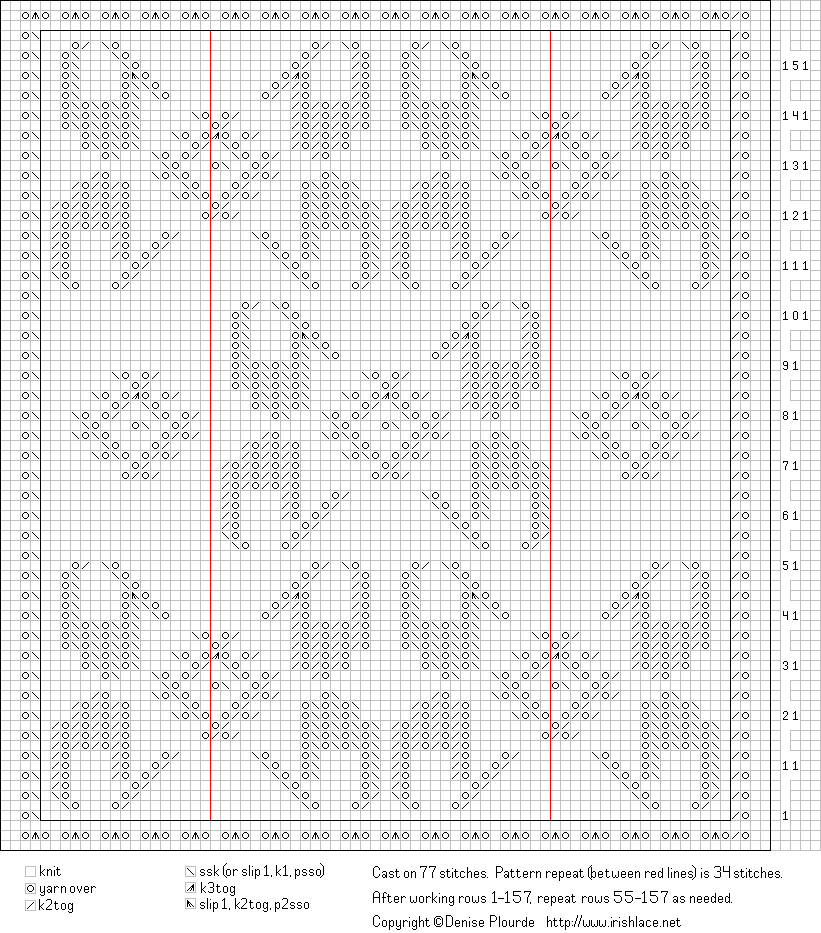 The chart I actually used (please click the image for the full-sized chart)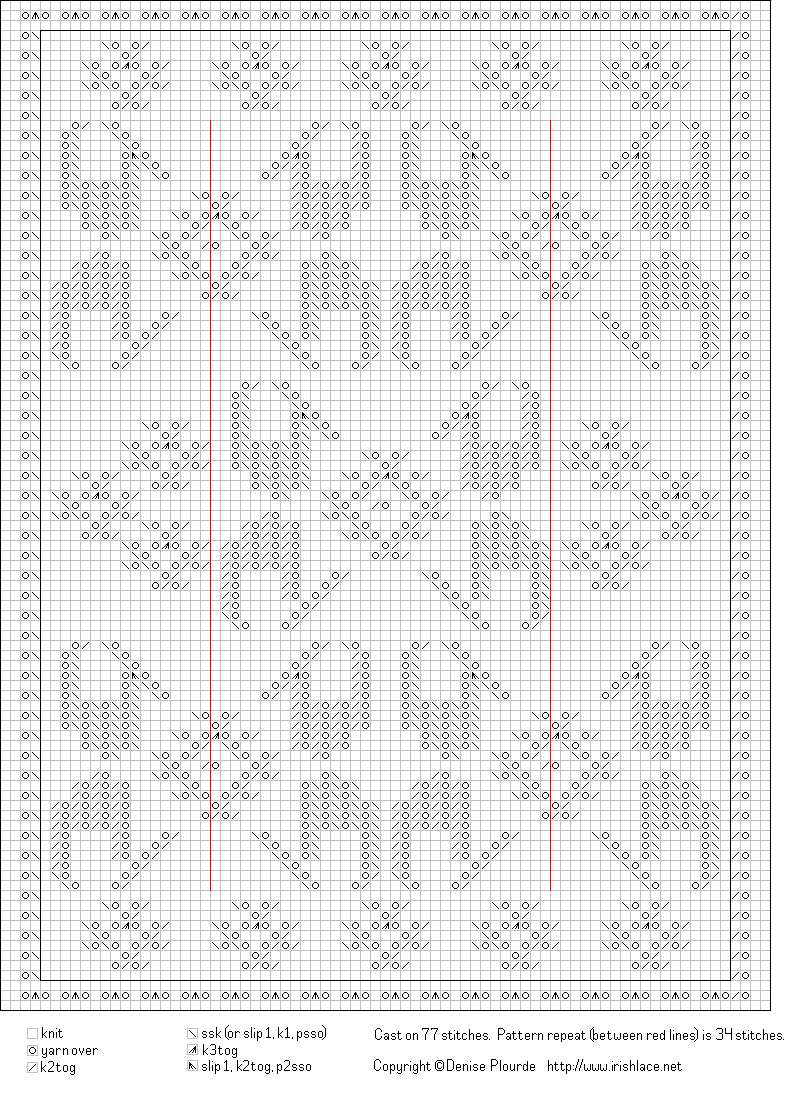 The chart that I didn't use, but that reflects the pattern of the finished scarf (please click the image for the full-sized chart)